Ronaldo aia Jersey hralh tam Lionel Messi
Lionel Messi chuan jersey hralh tamah record thar siamin C. Ronaldo United jersey number 7 aiin a PSG jersey number 10 an hralh tam zawk.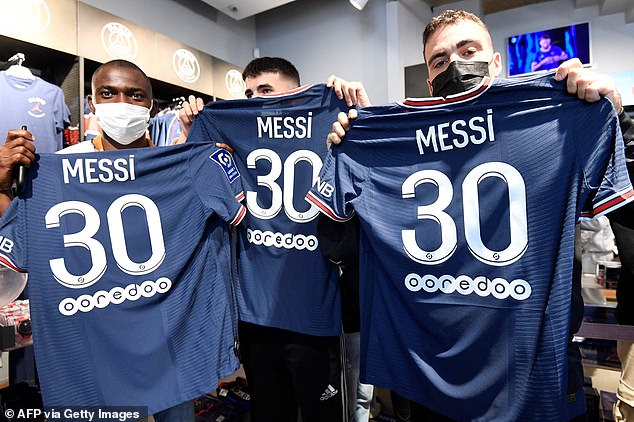 Lionel Messi chuan season liam ta khan mual chhung lamah harsatna tawk ve deuh mah se khelmual pawn lamah erawh record thar a siam thei tho thung. A khelh that leh that loh lam a ni lo, a lo lar tawhna chuan Paris Saint-Germain lama a jersey hak chu hralh a ti kal char char hle a ni.
A khelhna club Paris Saint-Germain hian season liam ta chhung khan a vawi khat nan club jersey maktaduai khat chuang an hralh a, an jersey hralh zawng zawng atanga 60% hi Messi-a kawr hak Number 30 a ni.
Tun tuma Messi-a jersey an hralh hian nikum lama Ronaldo-a'n United a zawm thar leh tuma a jersey an hralh kha a khum hial a ni. United lamin Ronaldo kawr an hralh chhuahna ringawt atangin nikum September thla thleng khan £187million an lalut tawh a, chu sumdawnna hlawk tak chu PSG kawr hmangin Messi-a'n a khum ve leh ta thung a ni. A pumpuiah pawh United hi chungnung ber thin kha an ni a, tunah chuan PSG lamin jersey an hralh tam tawh zawk a ni.
Barcelona atanga Messi-a'n PSG a zawm dawn lai vel leh a hlawh chungchang an sawi lai khan Messi-a vang hian an jersey chu an hralh belh nual dawn tih pawh an hai lo va, jersey hralhna atanga an sum lakluh tur an hisap chu €1million vel a ni.
Ligue 1 heavyweight hian an official store chu Champs-Elysees lamah suanin an zauh belh bawk. Marc Armstrong, PSG chief partnership officer, chuan jersey demand hi 30 to 40 per cent bawra a pun thu a sawi.
Share now