Cyclone Biparjoy: Darkar 24 chhungin insiam chak dawn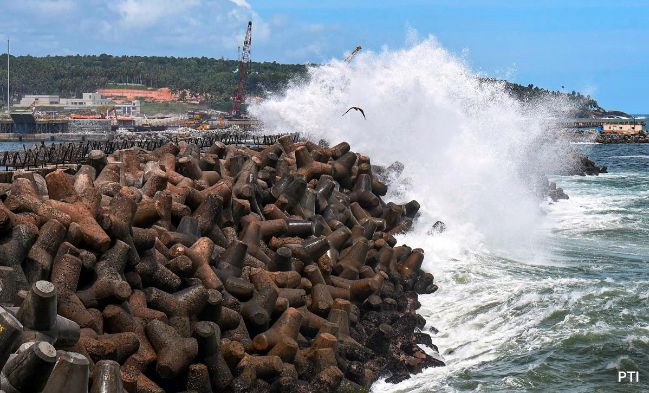 Arabian Sea-a cyclone thawk mek hming hi Bangladesh-in Biparjoy tih hming hi an phuah a, Bengali tawng niin a awmzia chu 'disaster' tih leh 'calamity' tihna a ni a. World Meteorological Organization (WMO) chuan kum 2020 khan Indian Ocean hmar lam, Arabian Sea leh Bay of Bengal huama tropical cyclone hming tur a duan zinga mi a ni.
India Meteorological Department (IMD) chuan Inrinni khan 'very severe' cyclonic storm Biparjoy chu darkar 24 chhungin a chak zawkin a insiam dawn tih an sawi a, hmarchhak lam hawiin a tawlh zel tih a sawi.
Storm hi tunah hian Goa khawthlang lam Mumbai atanga chhimthlang lam km 690 chuanga hla, Porbandar chhimthlang lam km 640-ah a awm mek a, thlipui a ken hi darkar khata km 145-a chak a ni mek tih an sawi.
IMD hian Biparjoy avang hian Karnataka, Goa leh Maharashtra-a vaukamah thlipui leh ruahpui a thlen dawn tih an sawi.
Biparjoy thwk tur avang hian khualzinte tlawh tam hmun, Arabian Sea kama awm, Gujarat-a Valsad district-a Tithal Beach chu June 14 thleng atan khar rih a ni.
"Sangha mantute pawh tuipuia chhuak rih lo turin leh a chhuakte pawh haw tura tih an ni a. Vaukam hnaih khuate chu hmun hima a tula insawn thei tura tih an ni," tiih Valsad Tehsildar TC Patel chuan a sawi tih news agency ANI chuan a tar lang.
"Gujarat chhim lam hi Pathianniah emaw, Thawhtanniah emaw a thlen hman a rinawm a. Tunah hian inralring takin kan awm mek a, thawktute pawh an thawhna hmun chhuahsan lo turin kan ti a. SDRF (State Disaster Response Force) team pawh vaukam khuaah inring tura tih an ni a. A tul a nih chuan an awmna hmun hi sawn zel a ni ang," tiin Surat Collector BK Vasava chuan The Indian Express chanchinbu hnenah a sawi.
"Cyclone avang hian June 10, 11 leh 12-ah chuan knot 45 leh 55 inkar a ni dawn a, knot 65 pawh a kai thei hial dawn a. Ruah tam vak lo leh vaukam hnaih - Gujarat chhim leh Saurashtra-ah chuan thlipui leh tek pawh a thlen ang. Lawngchawlhna hmun zawng zawng hi Distant Warning signal-ah awm vek tura tih an ni," tiin Ahmedabad-a IMD Director Manorama Mohanty chuan a sawi tih news agency ANI chuan a tar lang.
International maritime law-ah chuan lawngchawlh hmunten hoist signal an tihchhuah chuan khaw awm danin a zir loh vanga inralrinna tihna a ni a. Tuipuia lawng kal velte himna tura tih niin lawngchawlh hmuna lawng dingte himna pawh a ni.
Latest News & Chhiar Hlawh