Passenger phur lirthei te venna leh thununna hmun tur hmun hawng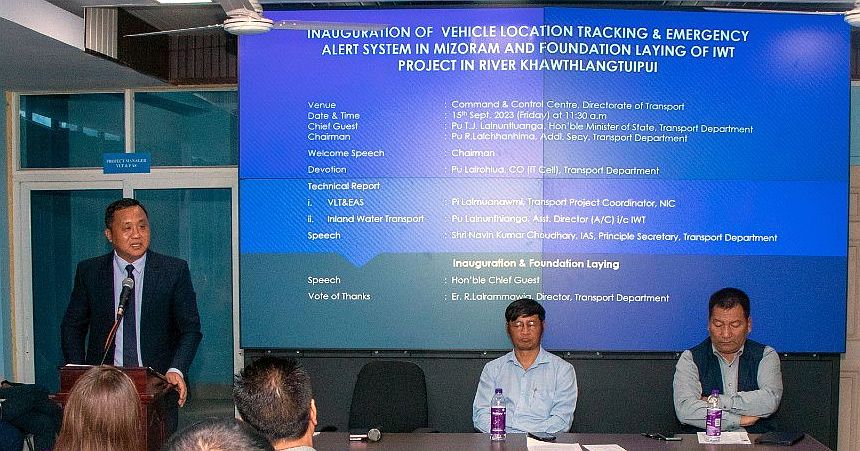 Aizawl September 15, 2023: Vawiin khan TJ Lalnuntluanga, Transport Department changtu Minister chuan Directorate of Transport, Tuikual Aizawl-ah Transport Department hnuaia Mizoram chhunga Vehicle Location Tracking & Emergency Alert System (VLT&EAS) Control and Command Centre chu khuallian niin a hawng.
VLT&EAS hi 2012-ah Delhi-a Bus chhunga pawngsualna rapthlak tak thleng 'Nirbhaya case' thil thleng avang khan India sawrkar chuan passenger te, a bikin hmeichhiate himna tur ngaihtuahin MoRTH (Ministry of Road Transport & Highways) chuan 2016 khan Central Motor Vehicle Rules (CMVR)-ah thuchhuah a siam a. Vehicle Location Tracking Device (VLTD) leh Emergency Alert Button chu passenger phur motor ke pali leh a chung lam nei January ni 1, 2019 hnulama register-ah vuah vek tura tih a ni.
VLT & EAS hian two wheeler leh three wheeler (auto-rickshaw) a huam lo a, State parukah Mizoram tiamin India ramah hman tawh a ni. He Project hnuaia hian NICSI (National Informatics Centre Service Inc.) Ministry of Electronics & Information Technology, Govt. of India kaltlangin thawktu mi 15 dah a ni a, Command and Control Centre ah hian ni 1-a darkar 24 chhung thawktu awm tura ruahman a ni.
He project thiltumte chu:
1. Hmeichhia leh naupangte passenger phur motora an him zawk nan.
2. Passenger Vehicle-a harsatna tawk ten awlsam taka tanpuina an koh theih nan.
3. Passenger Vehicle awmna hmun awlsam taka hriatna leh chhui zung zung theihna.
Rang taka Emergency Response Support System (ERSS) Team, Police Department hnena hriattir a nih theih nan bakah Vehicle Location Tracking Device leh Emergency Button te chhui bakah en thlak theihna tur monitoring centre siam te an ni.
Lirtheia harsatna tawk- pawngsual, insuam/inrawk, accident eng pawh thleng se Panic Button an hmeh ve leh Command & Control Centre leh ERSS (Police Department) ah alert thlengin, harsatna thlenna hmun chhui chhuakin, hma lak zung zung theih a ni dawn a ni. VLTDevice hian Command &Control Centre ah Motor a nun chuan lirthei dinhmun a thawn reng a. Motor awmna, tlan chak zawng, Signal dawng tha lo, device tihchhiat tum, SIM Card nung tha lo te a hriat theih dawn a ni.
Tunah hian passenger phur motor thenkhat a leh Transport Department, Govt. of Mizoram MST BUS ah te Panic Button hi dah an ni tawh a ni.
Latest News & Chhiar Hlawh