Union Minister-in Lengpui Airport hnathawh endik || October 2023 a zo hman turin a nawr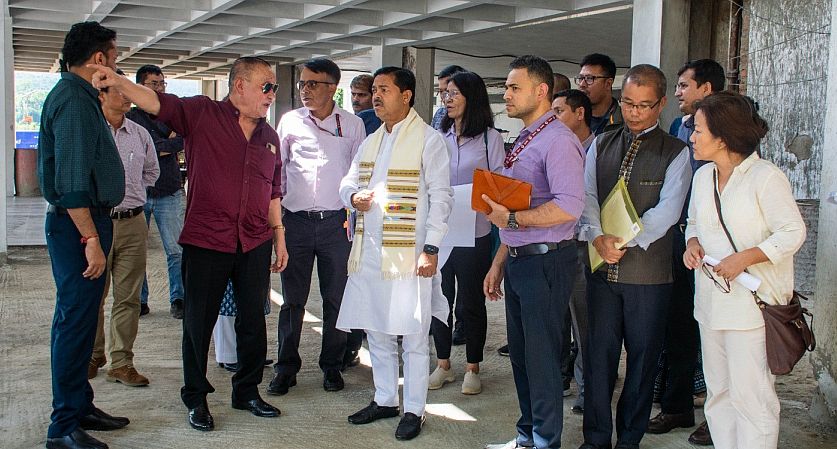 Aizawl September 16, 2023 : Ministry of Development of North Eastern Region (DoNER) a Minister of State Shri B L Verma chuan vawiin khan Lengpui Airport-a North East Special Infrastructure Development Scheme (NESIDS) sum hmanga Lengpui Airport tihchangtlunna hna 'Improvement/Upgradation of Operational/Non-Operational facilities of Lengpui Aiport' thawh mek chu a hmunah a en.
Minister leh amah zuitu Ministry of DoNER a Joint Secretary leh Director ten PWD leh GAD (Aviation Wing) hotute te chu he hna thawh mek chungchang zawtin zawhfel a nih vat thei nan ruahmanna te an sawipui a. He hna hi December ni 4, 2023 a zawh fel turin a hun pawhsei a ni a, mahse Union Minister hian April 11, 2023 a helai hmun a tlawh tum khan October 2023 chhunga zo fel thei tura hma lo la turin a lo hrilh tawh a, vawiin meeting-ah pawh Minister chuan theihtawp chhuah a October 2023 ral hma ngei a he hna hi zawh ngei nise tiin a duh thu a sawi nawn leh a ni.
PWD leh GAD (Aviation Wing) hotute chuan he hna hi Airport tihchangtlunna hna dang SASCI sum hmanga thawh mek nen a kalkawp avangin a bik takin electrical hna chungchang hi duh anga chak taka thawh leh hmalak a har thu an lo thlen a ni.
Meeting zawh hian Minister chuan Lengpui Airport tihchangtlunna hna hrang hrang – Elevated Road, Departure Lounge, Baggage Make Up Area leh adangte a fangkual a ni.
NESIDS sum cheng nuai 1959 hmangin he hna hi thawh mek a ni a, tun dinhmunah hna – civil works hi za zelah 88 leh electrical works hi za zelah 68.31 thawh zawh tawh a ni.
Union Minister of State hi Naktuka Sawrkar Laipui Ministry of Small, Micro and Medium Enterprises hnuaia scheme thar Prime Minister Vishwakarma Scheme hawnna Aizawla hmanpui tura lokal a ni.
Latest News & Chhiar Hlawh