mAksAk : Ui dam lai upa ber Spike!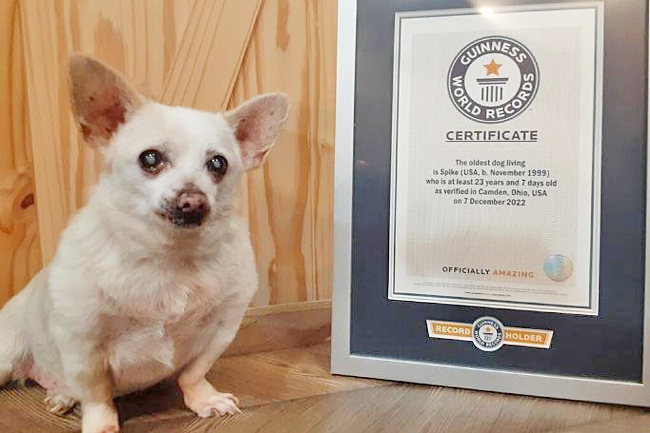 Ohio, United States-a Spike tia a hming an sak ui chu Guinness World Records chuan damlai zinga khawvela ui upa ber nihna an pe a, kum 23 leh ni 43 zet a ni tawh.
Record vawng thin pawl hian inches kua chauhva sei, Spike hian Dec. 7 atang khan ui dam lai upa ber nihna hi a hauh tan niin an sawi.
A neitu, Rita Kimball chuan amah leh a chhungte nen kum 13 liam taah khan lirthei hunna hmunah ui hi a bawm Camden grocery store-ah an chhar thu a sawi.
"A hnung hmul a lo kawlh vek a, a nghawngah an thlunna a lo sen nasa hle bawk a, a rapawm reuh hle," a ti a. "Dawra a nghaktu chuan ni thum a awm tawh thu leh eng eng emaw a lo pek thin thu a sawi," a ti.
Kimball-i hian ui a chhar chu an huanah a hawn a, a enkawl zui ta a, a hming pawh a phuahsak ta a ni.
"Spike hi ui lian hming a ni a, ani erawh chu a te a; mahse, ui lian tak ang mai hlutna a nei," a ti.
Kimball-i hian Spike chu veterinarian hnenah kalpuiin a taksa atanga a kum zat an chhutnaah Nov. 10, 1999-a piang niin an hre ta a ni.
The Tonight Show with Jimmy Fallon a en tumin ui dam lai upa ber ni thin, Pebbles chungchang lang a en chuan Spike chu a upa zawk tih a hre ta a. Heta tang hian khawvela upa ber nihna hauh dan an dap ta a ni.
Latest News & Chhiar Hlawh