PRO FIGHT: Nikum aiin cheng nuai khatin lawmman tam zawk dawn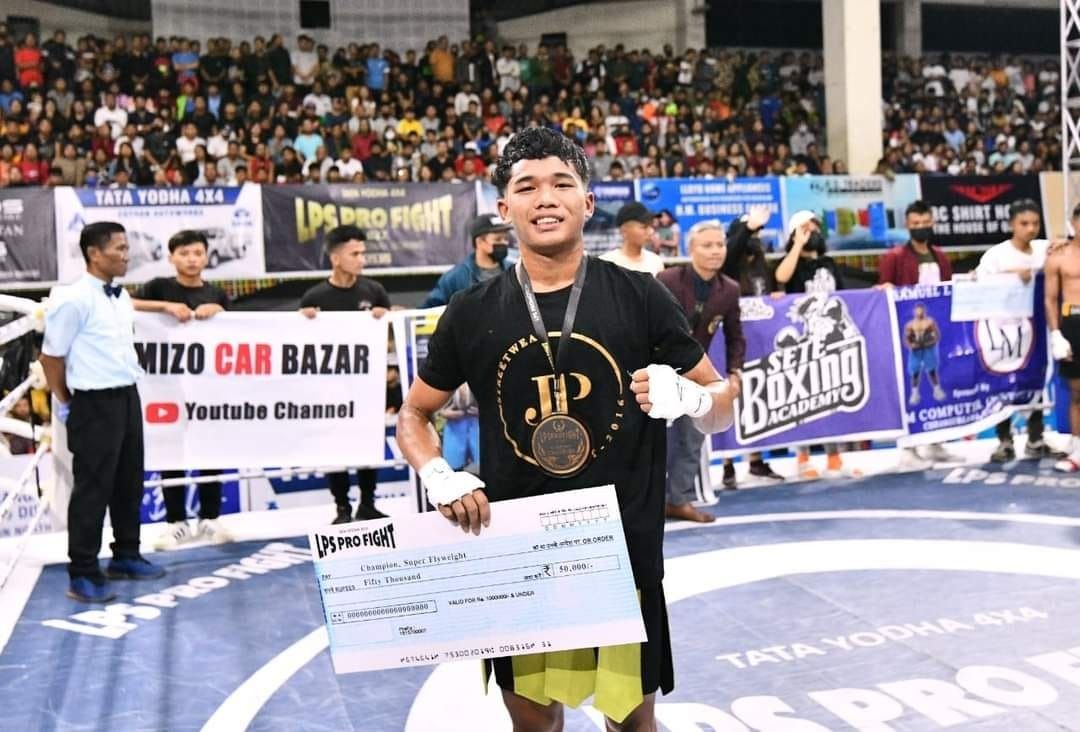 Tata SK 612 LPS Pro Fight-ah lawmman pawisa tipungin Rs 6,50,000 sem chhuah a ni dawn a, Laldingliana leh F Zoramchhana'n WBC India title an chuh dawn bawk.
Ninganiah Chairman Lalsawmliana Pachuau hovin a pisa, Zarkawtah organising committee-in ruahmanna thar a siam a, nikumah a pum puiin lawmman pawisa fai Rs 5,50,000 pek chhuah a nih laiin tun tumah cheng nuai khata tihpun a ni.
Kum kal taah weight tina champion-in Rs 50,000 leh pahnihnain Rs 20,000 an dawng a, kuminah champion tinin Rs 60,000 leh kawnghren, pahnihnain Rs 30,000 an la ang a. Semifinal leh quarterfinal thleng chin erawh a pangngai angin Rs 10,000 leh Rs 5,000 theuh pek a ni dawn a ni.
Organising committee-in lawmman pawisa fai a pek chhuah bakah KT Enterprise-in best boxer, promising boxer leh best challenger bakah best referee leh best judge hnenah lawmman pawisa fai leh trophy a pe dawn a. Inhnek zan apiangin GIG Motors Fighter of the Night hnenah lawmman pawisa fai pek thin a nih dawn bakah, technical official lawmman atan nikum ang bawkin zan khatah Rs 1,500 zel bituk fel a ni bawk.
Title Fight rualin WBC India title chuhin Mizo pahnih an inlan dawn a, organising committee member Dr Lalmuanpuia'n 2019 Pro Fight bantamweight champion Tuipui boxer Laldingliana'n WBC India bantamweight title a chuh theih nan WBC hmunpui USA atanga sanction lakna senso a tumsak ang.
Nikum Pro Fight bantamweight Title Fight-a chak zo ta lo, F Zoramchhana, Cherhlun chuan WBC India super bantamweight title a chuh theih nan GIG Motors neitu, John Lalpeka'n sanction lakna senso a tum dawn bawk a, LPS Promotion-in an lawmman tur leh senso tul dang a ngaihtuah ve thung ang.
Kum 17 chin chung lam a duh apiang tan Tata SK 612 LPS Pro Fight-ah tel theih a ni a, September 20 thleng hun hawn a nih laiin Ningani tlai thlengin boxer 258-in application form an theh lut tawh a; October 2-ah LPS Arena, Falkland Veng, Aizawlah tan a ni ang.
Latest News & Chhiar Hlawh