Republic Veng-a Lungli Tui Water Treatment Plant K. Vanlavena'n a hawng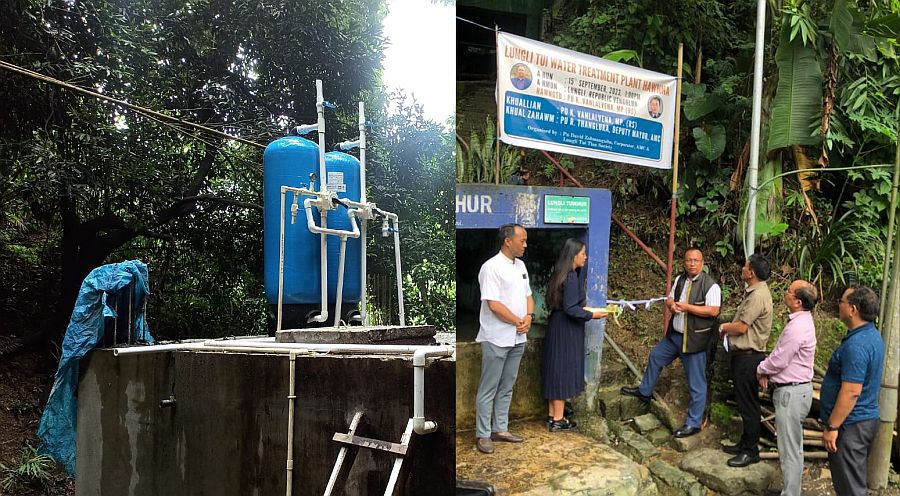 ZALEN September 15, 2023 : Vawiin khan Rajya Sabha MP K. Vanlalvena chuan Aizawl South I huamchhung Republic Veng-a Lungli Tui Water Treatment Plant, Ward Corporator leh AMC hmalakna a siam chu a hawng a, AMC Deputy Mayor R. Thanglura chu khualzahawm a ni.
Hawnna leh hlanna hun hi Treatment Plan site, Lungli-ah hman a ni a, Ward XVII Corporator David Zohmangaiha chuan a kaihruai a, Lungli Water Treatment Plant siamnan hian Rs. 14,00,000/- sen a ni a, he hunah hian Lungli Tuitlan Society chuan Ward Corporator leh AMC hotuten an phurpui naah lawmthu an sawi. Water Treatment Plan hi Lungli Tuitlan Society hnenah MP K. Vanlavena hian a hlan nghal a ni.
March 4, 1996 atanga khan Lungli tuikhur atana tui humhalh hna hi tan a ni tawh a, Lungli tui hnar tlanpha chin ten thianghlim leh awlsam zawka mahni chenna in theuha an lak luh a, an tlan theih nan hmalak nghal a nia, Society din tha tiin, pawla insiamin "LUNGLI TUITLAN SOCIETY" hi din a ni ta a ni.
A hnathawh na huam chin (Area of operation) hi - Republic Venghlun, Upper Republic leh Mission Veng te an ni.
Society Member hi chhungkaw 232 vel an ni mek a, Society in a tum ber chu tuithianghlim in tur Area of Operation huamchhunga mite, an chenna in ngeia pek a ni. Society hian inkaihhruaina dan mumal tak (Constitution) neiin, Hruaitu kum 2 danah inthlan thin ani a, OB paruk leh committee member te in ruat thin bawk.
Society hian tui haw dan tur timing a siam a, zinga haw te tlailama haw te, zanlam haw thlengin timing fel takin a duang a, heng tui hawn hun te hi Chowkidar thlatina hlawh pein an ruai bawk a ni, Society hian annual fee Rs. 250/- an khawn thin a, chu chu chowkidar hlawh leh tul dangah an hmang thin.
Latest News & Chhiar Hlawh