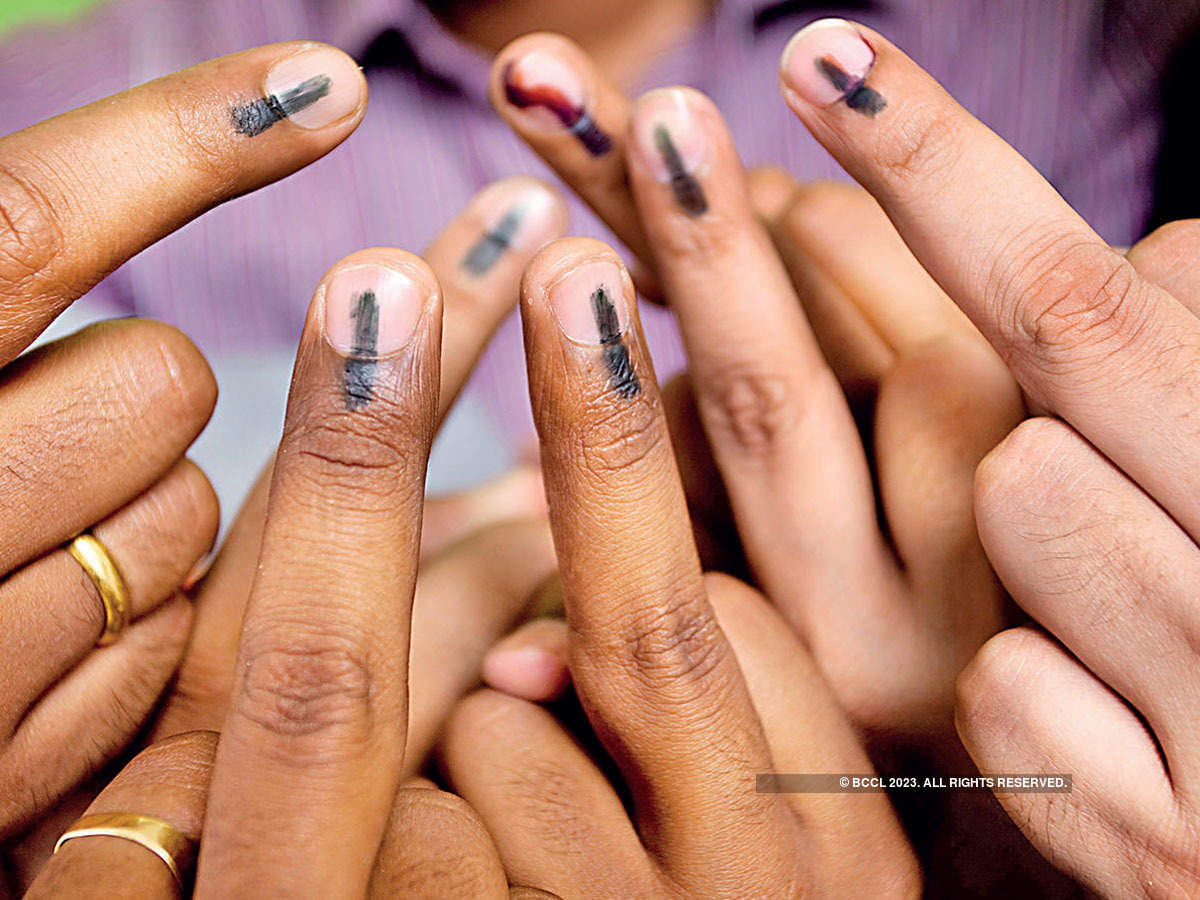 Kamchhuak
INTHLANPUI A HNAI LEH TA
Kan tih nek nek vang pawh ni chuang loin June thla (Nikir thla) Pathian ni hnuhnung ber kan lo chuang kai leh ta. Kumin kum chanve chu kan hmang zo leh dawn ta reng mai. Kan hriat angin kumin hi MLA intlanpui neih kum a ni a, tun apangin politics lam hawi thu ziak chhiar tur a tam chho tan leh ta hle mai. Nitin chanchinbua thuziak (article) tam zawk pawh politics rawng kai a ni chho leh ta. Tun hun hi rin thu sawi hun a ni a, sawrkar tur kan in rin siak a, politics ngaihven thin tan chuan inthlan lai ai mahin tun hun hi a nawm chhoh lai tak a ni. Thil eng pawh ti dawn ila, a dawn hnaih, a sehsam lai hi a huphurhawm lai ber a nih em loh pawhin a phurawm lai ber a ni fo thin. Kumin kum tawpah pawh kan han inthlang mah nang ang a, inthlan zawhah vote an han chhiar ang a, sawrkarna siam tur a chian hnu chuan tumahin politics kan sawi peih tawh tawp na'ng.
Kan thianpa pakhat, politics ngaihven ve tak hian MLA inthlan dawn apiang hian, 'Tun tum chu sawrkarna siam thei party an awm lo ang. Sawrkar intawm (coalition government) a piang ang' a ti ziah a, a sawi sual ziah. Inthlan apiang hian eng party emaw ber hian chiang takin sawrkarna an siam zel chu a nih hi. Kumin inthlanpuiah pawh hian eng party emaw ber chuan sawrkarna khawp MLA seat (single majority) an lak leh ngei a rinawm.
A phur thuah chuan ZPM hi an phur ber niin a lang a, Lunglei Municipal Council-ah leh Zemabawk Local Council inthlana an solid hnu phei chuan an phur zual hle niin a lang. Amaherawhchu, ZPM party hi an phur leh lutuk ang a, an dai pelh phengphun ang tih erawh a hlauhawm hlel lo ve. Inthlan puan hma atang hauhin bial viltu tur (candidate tur an ni mai ang chu) an han inruat rup rup a, Aizawl East-I bial viltu tura an ruat chu a han inhnuk dawk leh rih a, ama thua inhnuk dawk nge, loh theih loha inhnuk dawk tura kartu an awm tih lah a hriat tawh si loh. An party chhungah hian lungawi lo an tam viau nge ni, lungawi lo thlemtu tur an in ruat hial mai. An party chhunga neuh neuh awm nia lang hi an hmeh mih thuai loh chuan mipui hian an ngaizawng chhunzawm lo mai ang tih pawh a hlauhawm hlel lo ve.
Tin, LMC inthlanah leh MLA bial khat Local Council inthlana an chet that avang maia sawrkar tur thawka an thawk nghal mai chuan a fuh lo ang. Mipui hian party hruaitu inluling lutuk leh invaivung lutuk hi kan ngai thei lo sam khawp. Tunah pawh unit leh block level vela hruaitu inluling, sawrkar ngei ngei tura inngai, se chek kal ngut ngut mai te an awm a nih chuan an in khap daih thuai a tul ang. Mi inluling hma lutuk hian tumah an hip lo a, mi an vaw darh mai mai zawk a ni. Thih ngama Lal Hezekia a damloh hnua a lo dam leh khan, "Zawitein ka kal dem dem tawh ang" a ti a, khatiang deuh khan ZPM Party pawh hian chak ve tawk, tam ve tawka an inngaih lai tak hian tlawm taka zawitea kal dem dem hi an mamawh ber a ni. Chu chu mi khawngaih an hlawh na ber tur pawh a ni bawk.
Congress Party hi an tlakna a la rei lo a, tho chhuak leh nghal mai tur chuan beisei chi an ni lo mai thei. Hruaitu thar hnuaiah an in hrual mum chho leh ang chu kan tih laiin an Treasurer a han bang rup mai a, chumi hnu lawkah an hruaitu lawk pakhat, an sawrkar laia Minister pawh lo ni tawh chu a bang leh a, an party chhung inrelbawlnaah leh leadership-ah hian lungawi lo an awm tih hai rual a ni lo. Chutihrualin, tun hnai teah mi thar lawmluh an han nei leh a, hei hian phurna thar pawh a pe ngeiin a rinawm. Congress hi kumin inthana an sawrkar zo ta chiah lo a nih pawhin ruhrel lian party an ni a, term hnih (kum 10) an beh hnu pawha ropui taka thochhuak (comeback) leh thei an ni a, chuvangin dah hniam ngawt chi an ni lo.
Tun dinhmuna party beih tawk nasa leh social media-a sawisel kai ber chu MNF party hi an ni mai thei. An arpa chan lai, sawrkarna fawng vuantu an nih vanga sawisel hlawh te pawh anni mahna. MNF vanduaina deuh chu an sawrkar lai leh hripui a innang kha a ni. Kum hnih deuh thaw total lockdown hnuaiah kan awm a, hmasawnna hna a chawl a, central atanga sum hmuh a tlahniam a, sum harsatnain min nuai a, sawrkarna chelhtu an nih miau avangin mupuiin kan kawh rawn lo thei lo. Chutih rualin MNF hi party ngelnghet, Congress party ang bawka ruhrel lian an ni a, mi tha an ngah bawk a. Inthlan hma hun tlem te an la neih lai hian an party chhunga lungawi lo te an in tuam dam hman a, LMC leh Local Council-a an chetchhiatna te inzir nana an hman phawt chuan sawrkar lo tura ngaih ngawt chi an ni lo.
Kan duhthawh luatah sawrkar (tu sawrkar pawh nise) kan sawisel luai luai thin a, ar chuk tui loin kan chhuah fo thin. Amaherawhchu, kan hun tawng a zir zelin kan tana tha ber tur sawrkar kan nei fo thin. Kum 1984 MLA inthlanah khan Congress Party kha sawrkar ta lo se remna leh muanna kan nei lawk lo mai thei. Kum1998 ah khan MNF kha sawrkar ta lo se World Bank kawng te, Bawngkawn to Durtlang kawng tha tak mai te, Mizoram University te, Millennium Centre te, New Capital Complex te hi kan nei kher lo mai thei. Kum 2008 ah khan Congress kha sawrkar ta lo se Referral Hospital te, Medical College te, Horticulture College te, Tuirial Hydel Project te hi a puitling ngut lo mai thei. Chuvangin, kan ram hruaitute thil tha ti duh lo leh tih tum lo, chhe lailet der anga inchhuah hi thil tha a ni lo. Tih fuh tawk loh tam tak an neih rualin ram tana thil tha (legacy) tam tak min hnutchhiah ve bawk a nia. Kumin 2023 inthlanpuiah pawh hian chunglam hian kan tana tha ber tur roreltu min pe turah i ngai ang u.
Latest News & Chhiar Hlawh